If you reach into your pocket, there is a good chance you can pull out a Samsung smartphone. After all, the company's Galaxy and Note phones are some of the most popular devices on the market today. While Samsung has developed a reputation for making dynamic personal electronic devices, it also manufacturers some major appliances. In fact, Samsung refrigerators are becoming the must-have appliance for homeowners around the globe.
Inside many Samsung refrigerators, there is a water-filtration system. In this review, we take an in-depth look at Samsung water filters, covering many of its major features. We also compare it to a few other filters.
Our goal is to provide you with honest, reliable and valuable information. As such, we don't limit this review to only published materials about Samsung water filters. Because marketing materials can be hyperbolic, we consider the opinions of both professional reviewers and actual customers. Where appropriate, we put in our two cents as well. Continue reading to find out whether we think a Samsung water filter is a good investment.
What Is a Samsung Water Filter?
The Samsung water filter, also called a Waterdrop filter, is a water-filtration system that fits inside Samsung refrigerators. There are several different types of Samsung water filters. This is due to the variety of models of Samsung refrigerators available for purchase. Also, different Samsung filters perform differently. All, however, meet certification standards set forth by the American National Standards Institute or NSF International.
Everyone knows the importance of staying hydrated. If you aren't drinking enough water, you may feel sluggish, tired and achy. While most households receive water from either municipal water supplies or private wells, water doesn't always taste great. On the contrary, sediment and odors can destroy the taste and smell of water. Samsung water filters remove many unwanted contaminants to deliver a steady supply of clean, fresh-tasting water.
If you are health-conscious, you probably know your body needs certain minerals. You may worry that water-filtration systems remove essential minerals from your water supply. While some filters do, the Samsung water filter generally doesn't. Designers of the Samsung filter use innovative technology to allow beneficial minerals to pass through while filtering out unwanted contaminants. As such, you don't have to worry about supplementing your diet with these minerals. Instead, your body takes advantage of them without suffering through the experience of consuming water that tastes or smells unpleasant.
While consuming tasty water is likely a priority for anyone, homeowners must also think about the health of their appliances. As you may know, Samsung refrigerators aren't exactly cheap. After investing in one, you want to be sure you do what you can to keep it in great shape. Unfortunately, scaly and hard water can destroy the inner workings of a Samsung refrigerator's water dispenser and ice maker. Even if the problem is fixable, repairs can be expensive. Because they filter sediment from water, Samsung filters can prevent damage to your refrigerator. This can extend the lifespan of your Samsung refrigerator, especially if your water supply has significant sedimentation surging through it.
Water filters for Samsung appliances are OEM components. Accordingly, you know the filters you choose fit your Samsung refrigerator perfectly. You don't have to mess with trying to find a workaround solution for replacing your fridge's filter. Even better, Samsung filters are made from a high-quality carbon block, which effectively removes 99.999 percent of unwanted contaminants from your drinking water. Most other filters on the market are made with granulated carbon.
The difference between granulated carbon and a high-grade carbon block is important. While granulated-carbon filters do an adequate job of filtering water, they are no where as effective a carbon-block filters. The science is simple. With granulated carbon, the filtration area is smaller. As such, some contaminants move through without filtering out. A carbon-block filter uses powder to increase filtration. The result is much cleaner water.
Samsung Water Filter Specifications
Filter Type: High-grade carbon block
OEM Component: Yes
ANSI/NSF Certified: Yes
Warranty: 90-day limited manufacturer's warranty
To help you better understand the specifications of Samsung water filters, we must tell you about a few popular models. The list below is not exhaustive, but it covers most of the water filters Samsung refrigerator owners usually buy. Note, though, that not all the water filters in the following list fit all models of Samsung fridges. Before purchasing a Samsung water filter, check your appliance's owner's manual for detailed information about buying and installing a replacement water filter. If you have lost the owner's manual, you can download a free version at the Samsung website, www.samsung.com.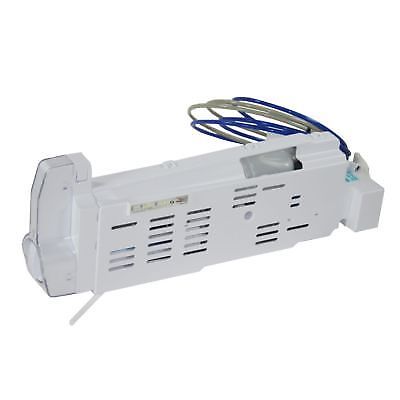 The Samsung DA97-11433A filter is the filter that appears in most Samsung refrigerators. The enclosed instruction manual tells you everything you need to know about installing this filter. If you own a fridge made by a different manufacturer, though, this OEM filter likely won't work for your water-filtration needs.
Filter #2:
No products found.
No products found.
No products found.
If you own a French-door refrigerator, the Samsung Aqua-Pure Plus will likely fit. This is true whether your fridge is a Samsung or another major brand. This filter does an excellent job at removing contaminants, odors and certain minerals. It doesn't come with an owner's manual, though.
Filter #3:
No products found.
No products found.
No products found.
The Samsung DA29-10105J fits outside Samsung refrigerators. This filter works with fridges from other major brands as well. With an activated-carbon design, the filter removes 99.999 percent of unwanted contaminants from water. It also has an impressive flow rate of 1.9 liters per minute. While this filter is easy to install, you may need to invest in extra tubing, as the included tubing is often too short to work with most plumbing systems.
Filter #4:
No products found.
No products found.
No products found.
The most affordable Samsung water filter, the DA29-00020B does an effective job removing contaminants from water. It also filters at a fast rate. If you want to save money on your water filter purchase, this may be an option for you. Be careful, though, as this Samsung water filter only fits a few refrigerators.
Filter #5:
No products found.
No products found.
No products found.
If you need an external water filter, the Samsung DA29-10105J may be the right one for you. Instead of fitting inside of your Samsung fridge, this filter fits outside. It is an OEM replacement part, making it the perfect option for maintaining appliances. The filter also works on some other refrigerator brands. Still, the Samsung DA29-10105J is not cheap. If you are up to paying for it, however, you can expect excellent filtration performance.
Filter #6:
No products found.
No products found.
No products found.
A fast filter, the Samsung DA29-00003 water filter uses advance-carbon technology to remove a variety of contaminants from tap water. While it fits most Samsung refrigerators, this filter doesn't work well in side-by-side models. Nonetheless, it produces some of the best-tasting water of any Samsung filter.
Again, while our list covers many popular models of Samsung filters, it doesn't cover them all. If you are looking for a replacement filter for your fridge, you must be certain you buy a compatible one. Since all models of Samsung water filters do an excellent job at removing contaminants from water, finding one that works with your refrigerator is the biggest hurdle. Once you do, you can be virtually certain you are investing in a high-quality water filter for your Samsung fridge. Moreover, if you own a refrigerator from a different manufacturer, you can likely find a Samsung filter that works with it.
Samsung Water Filter Pricing
The price range of Samsung water filters is vast. While some sell for as little as $10, others retail for more than $80. Since most Samsung filters have common features, the main difference in price is the filter's model. Of course, some high-end Samsung filters have additional features that cost more.
If you want to save money when buying your new Samsung water filter, you may want to consider purchasing a multi-filter pack. Since the manufacturer saves on packaging, you generally pay less per unit.
You also buy with confidence when you order a Samsung water filter. Most come with a limited 90-day warranty. This warranty covers defects in both materials and manufacturing. While 90 days is shorter than the life of a Samsung water filter, it gives you enough time to determine if the filter is functioning properly. If you need to file a warranty claim, you are likely to find responsive customer service representatives at the company.
When you are ready to purchase a Samsung water filter, you have a few options. You can likely find Samsung water filters at appliance stores or big-box outlets near you. You can also buy them online. Many shoppers choose to order from a third-party site, such as Amazon. Nonetheless, if you need some assistance deciding which filter is compatible with your refrigerator, your best bet is probably visiting a showroom that displays Samsung refrigerators. Often, sales representatives there have access to critical information to help you find exactly what you want.
How Samsung Water Filters Compare With Other Popular Water Filters
Before you decide whether a Samsung water filter is right for your water-filtration needs, you should know about some competitors. In this section, we compare Samsung water filters to two other popular ones, the Swing Green Water Filter and the Aqua-Pure Water Filter.
Competitor #1:
No products found.
No products found.
No products found.
Made for Samsung refrigerator model DA29-00003G, the Swift Green filter is compatible with other Samsung refrigerators. It works on some other brands as well. This filter is friendly to your wallet, as it costs less than many other Samsung water filters. Just because the Swift Green is affordable, though, does not mean it is ineffective. With a carbon-block design, the filter effectively removes chlorine, cysts, sediment and lead from drinking water. As a result, you get clean, refreshing water without breaking the bank.
Price: $11 to 120, depending on filter model
Ease of Use: 5/5
Assembly Time: 4/5
Build Quality: 4.5/5
Warranty: 4/5
Competitor #2:
No products found.
No products found.
No products found.
The water filter from Aqua-Pure fits nicely inside a few Samsung refrigerator models. It is also compatible with some fridges from other manufacturers. Like Samsung filters, the Aqua-Pure option uses a carbon block to effectively remove all unwanted sediment, odors, cysts and tastes from tap water.  If you want to use the Aqua-Pure refrigerator, you should verify that it works with your fridge.
Price: $25 to $120, depending on filter model
Ease of Use: 5/5
Assembly Time: 4/5
Build Quality: 4.5/5
Warranty: 4/5
While you probably don't need to purchase a Samsung water filter to replace the filter on your Samsung refrigerator, doing so is a good idea. When compared to the competition, Samsung filters are as good as or better than other filters on the market today.
Samsung Water Filter Pros and Cons
Samsung water filters are some of the best refrigerator water filters on the market. They are not perfect, however. In this section, we list some of the advantages and drawbacks of these water filters.
Pros
Filters feature an innovative carbon-block design.
Some Samsung filters offer fast water filtration.
Filters are compatible with Samsung refrigerators.
Filters are also compatible with some other refrigerators.
Most filters have a 90-day limited warranty.
Cons
Some Samsung filters are more expensive than other brands.
Some Samsung filters work slowly.
Filters require replacement frequently.
Finding some replacement filters can be challenging.
Not all Samsung water filters work in all Samsung refrigerators.
The Verdict: Most Samsung Water Filters Are a Good Investment
Samsung water filters come in a variety of models. Each of these filters has some impressive features. Specifically, Samsung filters usually filter out virtually all unwanted contaminants from municipal water or well water.
While we are happy to recommend Samsung water filters, you must be careful about buying one for your refrigerator. Since not all models work with all types of refrigerators, you must do some independent research before finalizing your purchase. Once you find a Samsung water filter that works with your appliance, though, we think you will like it.
Rating: 4/5
Last update on 2022-03-28 at 02:54 / Affiliate links / Images from Amazon Product Advertising API